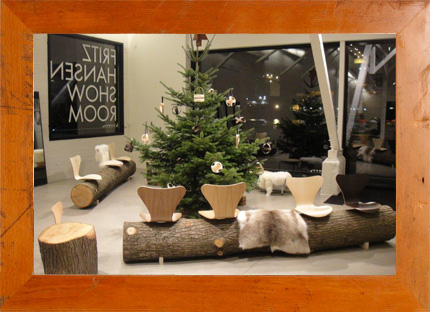 12.17 (Sat.) Fritz Hansen x Mammoth School Christmas Party @ Fritz Hansen's Tokyo Showroom
When Danish design legend Arne Jacobsen teamed up with Danish furniture maker Fritz Hansen the results were iconic: the Series 7™, the Ant™, and the Egg™ were all products born from this collaboration. Now, Fritz Hansen will team up with Mammoth School in creating a 'truly' Danish style Christmas Party. We'll be holding two special workshops one to create ornaments and one to create Wooden Nisse's (wooden- Santa Clauses). Plus we're also expecting a special appearance from Santa himself. There will also be 'Glogg' (hot Danish wine) for adults, as well as a chance for everybody who comes to make an original ornament from a the Series 7™ chair wood shaving. And just to make this very special Fritz Hansen and Mammoth School party even a bit more Danish we've asked the Embassy's very own chief to bake us a few Danish cakes and cookies. So please come and join us for a heartwarming Danish afternoon.
Special Thanks: Tokyo Embassy of Denmark, Lego Japan, Bodum
Fritz Hansen x Mammoth School
Christmas Party @ Fritz Hansen's Tokyo Showroom
Party Date: 12.17 (Sat.)
General Party: 11:00-4:00 (open to everybody-adults, children and parents)
Party & Workshop location: Fritz Hansen's Tokyo Showroom / 2nd Floor
Rihito House/ 6-8-18 Minato-ku Aoyama / Tokyo
         telephone/ 03-5778-3100
The Fritz Hansen x Mammoth School party will be open to everybody and run from 11:00-4:00. The general party will take place on the first floor of the Fritz Hansen Tokyo Showroom. Everybody is welcome: adults, parents and children. The party is a casual gathering so feel free just to stop by for a bit, have a drink and make an ornament. For parents and children interested in participating in the two workshops we have had the good fortunate of filling up both workshop classes.
So we are happy to announce that both workshops are full.
However, the general party on 12/17 (Sat.)- is open to everybody,
so please stop by anytime between 11:00-4:00 for a drink and some cookies.
We look forward to seeing you on Saturday.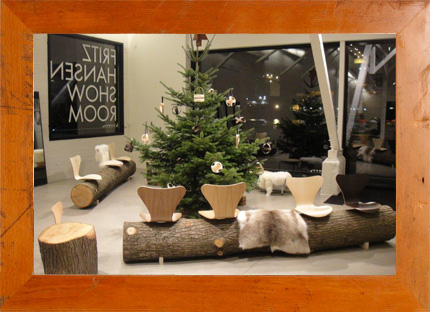 » 日本語